Officenet is the official sponsor of the prestigious CII Virtual Conference

20th May 2020: – Business continuity has become the priority and employers need to be ready to confront the issues concerning a post-pandemic workplace. The spread of the COVID-19 may diminish soon, requiring employers to begin reopening their businesses. A systematic approach towards the reopening of the industry is the need for the hour. With this background, CII organized The Virtual Conference on Business Complexity in Today's Scenario on 20th May 2020. The conference delved into Building Resilience for Businesses and People and discussed topics such as Business Continuity, Managing Supply Chain, and Managing Cash Flows.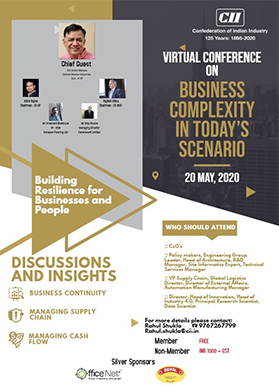 The Session was organized over the Virtual Platform and had eminent leaders from across the industry in India. Mr. Satish Mahana, Cabinet minister of Industrial Development, Govt. of Uttar Pradesh also deliberated at the conference. Over 100 participants took part in the event with Officenet being the sponsor and Director Ms. Sonali Chowdhry participating in the virtual conference. There were 12 renowned speakers from the industry who shared how their own respective organizations have been supporting their existing customer base during this crisis and also discussed the need for the organizations to rethink their customer experience strategy in the post COVID19 era. On the issue of supply chain linkages Mr. Arvind Kalra, Former Director – Supply Chain, Perfetti Van Melle India Private Limited, was of the opinion that implementing robust Supply Chain & Procurement strategies would be possible through Proactive Transformation of Processes & Organisation Structures while adopting affordable Technology. Experts from the Industry also deliberated on the nuances to help companies start, sustain, and re-boot their business.

In the COVID-19 era where each one of us is affected severely by this virus outbreak and our Business, Society and Economy are no exception to these conditions. The crisis has left enterprises to think about business continuity like never before and organizations are being pushed to rapidly operate in new ways and re-define business models.


Sonali Chowdhry
Director - Marketing
+91-9810129532
---------------------------------------------------
Netcomm Labs Pvt Ltd
219, 2nd Floor, Tower B
B-8,NOIDA ONE,
Industrial Area, Sector 62,
NOIDA (UP)
Phone : +91.120.2975660 / 5561
Website : www.netcommlabs.com,
www.officenet.in