Netcomm Labs wins the IETE corporate award for the Performance in Development of Human Resource Management Software Cum Payroll Solution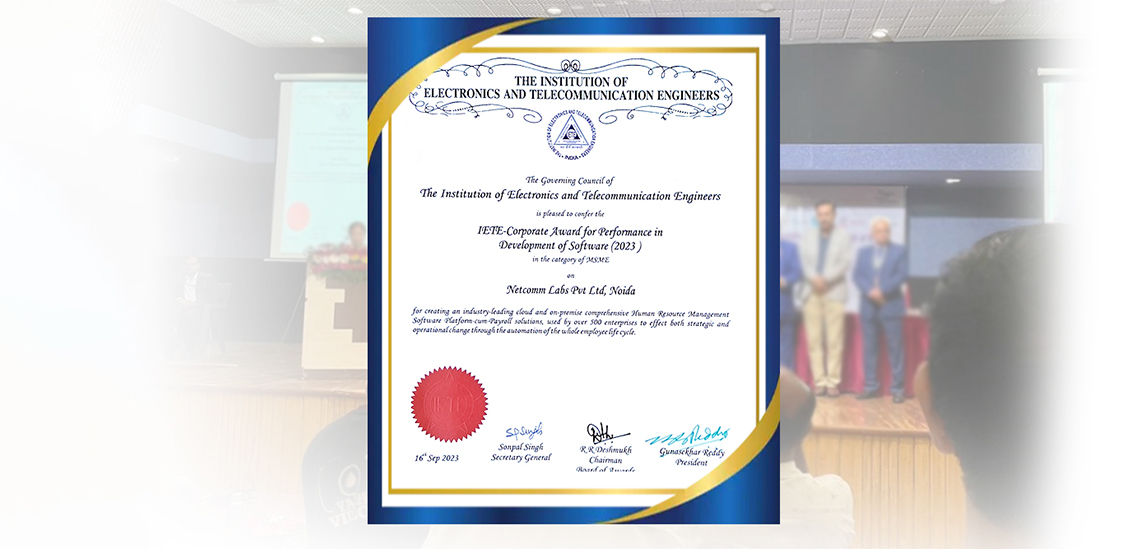 Pune, India – September 15, 2023 –Netcomm Labs was honoured to receive the prestigious Corporate Award for performance in the development of HR & payroll software by 'The Institution of Electronics & Telecommunication Engineers '(IETE) at the Annual Conference in Pune.
This recognition is rewarded for creating the best-in-class, integrated and reliable Human Resource management & Payroll Solution that is now being used by over 500 enterprises to enhance strategic and operational employee administration and management.
IETE Annual awards are awarded to professionals and members who demonstrate exceptional performance and contribution in the fields of electronics, telecommunications, computer science, and IT. The awardees are chosen by a jury consisting of well-known leaders in their respective fields and who serve in the capacity of jurors. The presentation of the IETE Awards 2023 took place at the Annual IETE Convention, which took place in Pune from September 15-17, 2023.
Attended by leading CEOs and CHROs the award function was one of the most prestigious events in the industry. It is an honour for Netcomm Labs to receive the recognition and award for the integrated Human Resource Management Software Cum Payroll Solution which is creating a mark of its own in the field and is the perfect blend of tech & innovation to help enterprises & MSMEs completely automate and streamline employee life cycles flawlessly & effectively.
Social Updates Desk
Netcomm Labs Pvt Ltd
219, 2nd Floor, Tower B
B-8,NOIDA ONE,
Industrial Area, Sector 62,
NOIDA (UP)
Phone : +91.120.2975660 / 5561
Website : www.netcommlabs.com,
www.officenet.in