Officenet as the official partner of OLX People " HR Leaders Virtual Summit- 2021

The HR Leaders Virtual Summit- a gathering of Human Resources Industry leaders was organized by Observe Now media house on 25th June 2021 that focused on key human resources and initiatives for the changing role of HR in the new normal. The idea of the virtual conference was to bring together the leading industry HR Heads under one roof to discuss the future of Human Resources- its changing dynamics which prompted organizations to relook on their existing people policies, work alignment through strategic work allocation, communication protocols, and traditional employee engagement models, learning and development opportunities, and so on.
During these uncertain times the importance to create and maintain relationships with like-minded professionals, the HR Leaders Virtual Summit fosters these relationships - all from the safety and comfort of our homes or offices. The summit also provided a specialized, strategically-built experience that features unparalleled keynote speaking sessions with thought-leading case studies and highly interactive panel discussions. Officenet Director, Ms. Sonali Chowdhry also deliberated on the role of HR as Employers Virtual Brand Ambassador which now gets redefined in the post-Covid Era and emphasized the flexible hybrid work model that organizations are now following keeping in view the COVID circumstances.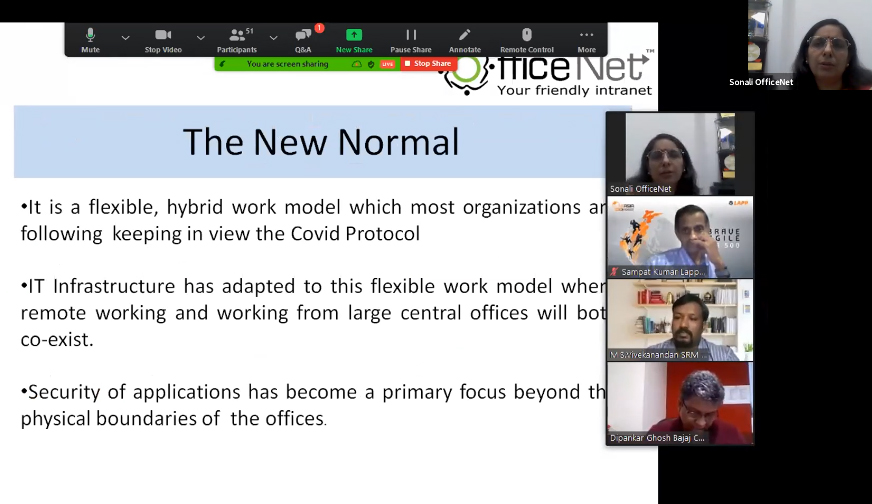 The speakers also put forward their insights to understand what challenges organizations are facing the world over due to COVID-19 and responding to these challenges by navigating the path to the 'New Normal', the role technology, can play to overcome the new challenges and for driving workforce productivity.
In today's constant state of change, organizations are all looking for ways to grow, adapt, and remain resilient amid uncertainty. HR can support the development of growth mindsets across the business by shifting the mindsets of employees and organizations. The time has come for us to reinvent and meet the 'new normal' head-on!
Social Updates Desk
Netcomm Labs Pvt Ltd
219, 2nd Floor, Tower B
B-8,NOIDA ONE,
Industrial Area, Sector 62,
NOIDA (UP)
Phone : +91.120.2975660 / 5561
Website : www.netcommlabs.com,
www.officenet.in